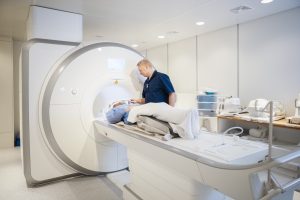 The medical field has come a long way—today, we can map the body without the need for scalpels and stitches. Thanks to Magnetic Resonance Imaging (MRI), for instance, healthcare providers now have access to three-dimensional anatomical images of their patient's body systems, with the use of non-invasive technologies. MRIs are mainly used for disease detection and diagnosis, along with careful monitoring treatments. 
These machines are used to map the brains and the spinal cord, including the nerves, muscles, and ligaments. Such detection is made possible through the use of controlled magnetic fields and radio frequencies, both of which are necessary for producing 3D images. In more ways than one, they are deemed as better than x-rays. 
To control these state-of-the-art machines, however, specialists are necessary. MRI technologists are tasked as the gatekeepers of these devices, using them to help doctors gain access to tumors, cysts, cancer, and other medical conditions difficult to diagnose. 
Pursuing a career as an MRI technologist requires several key factors, including mastery of the machine, ample medical knowledge, and other necessary skills. There will be no room for errors, especially since the wrong image can cause doctors to place patients in precarious treatment plans. 
If you wish to become an MRI technologist in the future, here is a quick guide for you:
Skills and Education: The Must-haves
Educational years 
Although generally blending in the background, MRI technologists play a crucial role in the healthcare system. Those interested in becoming MRI gatekeepers need to pursue the field of radiology, which will require you the following educational degrees:
Associate's Degree in Radiography

Bachelor's Degree in Radiologic Sciences

Accreditation by the Joint Review Committee on Education in Radiologic Technology (JRCERT)
After completion of the degree, you'll be then required to partake in the American Registry of Radiologic Technologists (ARRT) credentialing exam, which will help you become a licensed Radiographer. Once you've successfully completed this exam, you will need to prepare for another certification exam—the American Registry of Magnetic Resonance Imaging Technologists (ARMRIT). This part will help you become a certified MRI technologist, providing you with ample and structured knowledge to meet national standards.
Necessary skills
Once you have obtained all the necessary documents and certifications, you'll need to make sure that you are equipped with the right skill set to pursue a successful medical career. You'll need to specialize and master the magnetic resonance imaging scanners, ensuring that all images are correct. You'll also be required to deal with patients, helping them prepare for their MRI scan. As such, you'll need the following skills:
Interpersonal skills

Problem-solving skills

Critical thinking

Technical skills (For MRI machine operations)

Team and collaboration skills

Keen attention to detail
Pursuing an MRI Technologist Career?
An MRI technologist may be far from the heat of the hospital action, but their role is a significant aspect of healthcare. They are necessary for diagnosis and disease detection, especially when it comes to conditions that can otherwise be difficult to trace. As such MRI technologists require extensive training and certification, especially since lives are at stake. Certain skills are also needed, so make sure that you have what it takes before making your decision—keep the aforementioned details above.
If you wish to learn more about medical imaging, including their parts and service requirements, DirectMed Parts has you covered. We are the most experienced and trusted source for all things CT and MRI, specializing in parts and coils. Allow us to assist you with our professional services, so that you can maintain high standards of patient care and service. Reach out to us to learn more—contact us today.