Siemens is one of the oldest manufacturers of Magnetic Resonance Imaging equipment, with its first MRI machine being used in the early 1970s. Siemens has more than 40 years of MRI design experience, and with that, has developed concepts and models with more specific capabilities to the needs of the purchaser. 
With the development of its own MRI technologies, Siemens has streamlined the imaging process and enabled a more specific scanning process, tailored to the needs of the patient. The 1.5T, 3.0T, and 7.0T series of machines have their own benefits and advantages, depending on the needs of the facility. Their prices vary as well. 
Siemens Technology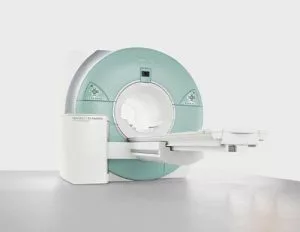 Siemens has developed its own technology and software to further the capabilities of its mechanics. Introduced by Siemens in 2003, the Total Imaging Matrix is the primary tech at the core of every Siemens MRI machine. TIM is integrated into the MRI coils and increases image quality by accelerating image acquisition.  TIM is now a fully digital architecture in its 4th generation and is capable of supporting up to 128 independent RF channels. 
Siemens also employs its own Day Optimizing Throughput (DOT), a software that supports systems and imaging. DOT creates a more efficient workflow by streamlining certain procedures and making imaging a quicker process. DOT engines are the underlying programs that can tailor the imaging process to the specific part of the body needing imaging. 
Recently, Siemens developed BioMatrix technology, which can monitor each patient's heart rate, movement, and breathing. It can make minor shim adjustments within the coil as needed, and use the patient's physiology to produce clearer scans with fewer artifacts.
1.5T MRI Machines
1.5T machines are the industry standard for efficiency in abdominal and chest imaging. The 1.5T is faster than lower strength MRIs, like the 1.2T. 1.5T MRI machines are in a wide-bore format, which means a more comfortable, spacious scanning process for the patient. Siemens makes the following 1.5T models:
MAGNETOM Essenza (2007) & MAGNETOM Amira (2015)

MAGNETOM Altea (2018) & MAGNETOM Sola (2018)

MAGNETOM Aera (2009)
The MAGNETOM Essenza and Amiras both use the DOT technology unique to Siemens, and the Amira uses BioMatrix technology in addition. The average price of a new 1.5T MRI machine across all manufacturers is $1.3 million for the machine itself, plus additional charges for servicing, logistics, and certain options and features, which vary between manufacturer and model. You can significantly reduce this initial cost by purchasing used or refurbished. A used 1.5T will probably run closer to $400,000 and $900,000.  
3.0T MRI Machines
A 3.0T machine produces significantly more signal, which means a significantly improved imaging quality from the 1.5T machine. 3.0T scanners can create clever images in a shorter amount of time as compared to the 1.5T models. 3.0T models are ideal for imaging small bones,  breast MRIs, musculoskeletal MRIs, neurological MRIs and vascular MRIs, which require the imaging of minute details of the anatomy. However, these machines can produce more artifacts as compared to the 1.5T, especially "flow" artifacts.
Siemens 3.0T models include the MAGNETOM Lumina (2018), the MAGNETOM Vida (2017), the MAGNETOM Skyra (2009), and the MAGNETOM Prisma (2012). The 3.0T MRI, on average, costs anywhere from $1.6 and $2.2 million. Again, if you purchase a used model, you'll be saving quite a bit on your initial costs, as used 3.0T on average costs between $900,000 and $1.4 million. 
7.0T MRI Machines
The Siemens MAGNETOM Terra is the first 7.0T model being used for clinical use. It has two modes, that allow the facility to switch from research settings to clinical settings, so the images produced can truly reflect the needs of the facility. It has a wide bore (60 cm), and zero helium boil off technology, which is becoming important as helium sourcing is becoming more and more difficult and expensive. 
The MAGNETON Terra was created for highly competitive, innovative, and solution-orientated facilities that want to attract talented minds in their next generation of physicians and researchers. With double the SNR of the 3.0T, it offers higher resolution and deeper insights, while employing the most current BioMatrix technology to mitigate patient-to-patient variance in physiology. Because the MAGNETOM Terra is the first of its kind, it is currently only available brand new, from the manufacturer.
Refurbished Options
Buying magnetic resonance imaging equipment used or refurbished can save a facility hundreds of thousands, or even millions of dollars initially. Refurbished models can fulfill the needs of your facility, and provide quality imaging for several years. A quick internet search will yield refurbished options for the Siemens MAGNETOM Aera (2009), the MAGNETOM Espree (2004), the MAGNETOM Avanto (2003), the MAGNETOM Verio, and the MAGNETOM Skyra (2009).
A refurbished Siemens Avanto can run you $200,000-$250,000 refurbished an Espree, $250,000-$300,000 and a Siemens Symphony just $100,000 or less. 
Refurbished options are economical and can be perfect for smaller facilities with specific imaging needs. Purchasing of any MRI equipment will require both initial and ongoing additional costs, which will vary depending on the design and layout of your facility, logistical details, and the service plan you choose. Equipment lifespan will vary from machine to machine, depending on a variety of factors, including how well maintained the equipment is.