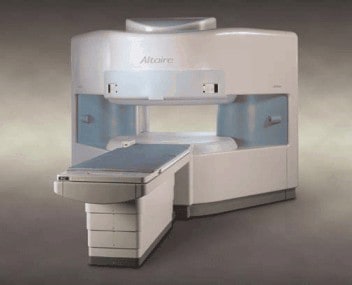 Everything You Need To Know About:
Hitachi MRI
Airis II
Parts, Repairs, Service
Brief Overview About The Hitachi MRI Airis II
AIRIS II firmly established Hitachi's reputation as the Open MR leader, equipped with a workhorse low maintenance permanent magnet providing consistent image quality and broad capability.
The innovative gantry design and wide patient table continues to deliver a high level of patient comfort. The AIRIS II has continued to maintain high resale value over the last decade and remains a sought-after scanner on the used equipment market.
Features
Exclusive SARGE sequences allow tissue contrast selectivity
FatSep provides sequences for fat-water separation
Advanced vascular imaging like timed bolus MRA is standard, while FSE capabilities provide high-quality MRCP imaging.
Specifications
| | |
| --- | --- |
| Clinical Use | Whole Body |
| Gantry (Max. Clearance) | 43 cm |
| Magnet Type | Permanent |
| Magnetic Field Strength | 0.3 T |
| Patient Weight Capacity | 500 lbs |
| Weight | 34600 lbs |

Stay up to date with our resources!
We are constantly publishing new content! Learn MRI & CT industry secrets along the way, become a more informed buyer, learn how to troubleshoot even the most complex problems, and ultimately save time and money!
Did you know: We sell MRI & CT parts for GE, Siemens and Philips?
[carousel-horizontal-posts-content-slider-pro id='108993′]
"When it comes to coil repairs, DirectMed is always our first choice. Ever since we started using DirectMed, our coil spend has decreased dramatically, all while receiving top notch customer service from a knowledgeable team."
"DirectMed Parts provides great service support, we have been their customer for almost two years now and this is greatly visible in our budget. We have cut our costs in half with the help of DirectMed Parts. Besides excellent service and support they also provide great equipment at very reasonable prices."