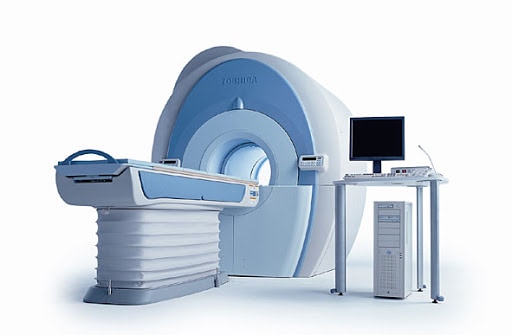 Everything You Need To Know About:
Toshiba MRI
Vantage
Parts, Repairs, Service
Brief Overview About The Toshiba MRI Vantage
Excelart Vantage Magnet 
Configuration: Ultra-short-bore 

Strength (or W x H): 1.5 T 

Homogeneity, ppm V-RMS: 

Dimensions of maximum useful FOV and homogeneity, (x, y, z), cm: 50 x 50 x 50 at =2 ppm 

Shielding: Self-shielded 

Main magnet shimming: Passive, auto-active 

Patient specific shimming: Auto-active shimming 

Cryogen refill frequency: Refill =1 year; liquid Helium
Excelart Vantage Gantry 
Bore diameter/height of patient opening: 65.5 cm 

Overall bore length: 149 cm 

Bore length with minimum opening: 140 cm 

In-bore patient comfort features: Adjustable lighting and ventilation, audio system, patient emergency response system, patient camera monitoring
Planning and Installation 
Overall gantry dimensions (including covers), W x H x L, m: 0.79 x 0.94 x 0.7 

Minimum ceiling height, m: 2.8 

Extent of fringe field (0.5 mT, 5 gauss) in x, y, z directions, m: 9.9 x 9.9 (x), 16.3 x 16.3 (y), 9.9 x 9.9 (z) 

Total weight w/cooling, shielding, gradient/body coil: 12,514 kg (51,035 lb) 

Minimum dimensions of opening required for installation, W x H, m: 1.83 x 1.83 

Minimum installation area for magnet, m2: 33 

Minimum total installation area for system, m2: 47.8 

Total number of cabinets required: 4
Power Consumption 
Line Voltage: 208, 300 A or 480, 150 A 

Kva: 86 

A/c, btu/hr: 4,436 BTU/hr, scan room; 47,352 BTU/hr, equipment room; 2,489 BTU/hr, control room 

Clinical Use: Whole body
Control Console Workflow 
Standard user interface: V 8.1 

Operating system: Intel Xeon 3.2 GHz dual CPU 

Number of stored scanning protocols: 2000 

Local hard disk capacity: 74 GB 

RAM: 2 GB 

Removable media: DVD 

Image protocol sharing: Transfer
Acoustic Noise 
Reduction technology: Vacuum enclosed gradient coils (Pianissimo)
Scanning Techniques 
Echo Planar Imaging: Optional 

Single shot: Optional 

Multi shot: Optional 

EPI pulse sequences: Optional 

Maximum EPI factor: 512 

Neurologic imaging: Standard 

Perfusion: Optional 

Diffusion weighted imaging: Optional 

Diffusion tensor imaging: Standard with EPI 

Functional MRI: Optional 

Spectroscopy (nuclei of interest): Optional 

MRA: Standard 

Time of flight: Standard 

Peripheral: Optional peripheral coil package 

Bolus tracking: Optional MRA package 

Interventional MR: Yes 

Cardiac imaging: Standard with cardiac package 

Cine: Optional cardiac package 

Coronary artery: Optional 

Ecg gating: Standard 

Motion compensation: Standard 

Prospective respiratory gating: Standard 

Additional: Fresh blood imaging, CIA
Sequence Selection 
Spin echo (Minimum TR ms) 

Minimum TR, 256 matrix, 30 cm FOV, msec: 9 (SE3.7) 

Minimum TR, 256 matrix, 10 cm FOV, msec: 19 (SE8) 

Gradient echo 

Minimum TR, 256 matrix, 30 cm FOV, msec: 5.4 (FFE3D2) 

Minimum TR, 256 matrix, 10 cm FOV, msec: 12 (FE3D5) 

Minimum possible TE, msec: 0.9 (gradient echo 256 x 256) 

Minimum possible TI, msec: 9 

Fast-spin-echo max train length: 1024 (FASE+6.5) 

Echo planar imaging max train length: 256 (SE_EPI)
Gradient system 
Standard name: AGV, MGV, XGV 

Standard strength, z-axis, mT/m: 30 

Standard slew rate, z-axis, T/m/s: 50, 86, 130 respectively 

Optional name(s): ZGV 

Optional strength(s), mT/m: 33 

Optional slew rate(s), T/m/s: 200 

Cooling type: Water 

Amplifier cooling type: Air, water
RF System 
Power output, kW: 20 

Standard number of channels: 4 

Optional channel configurations: 8 

Receiver bandwidth, kHz: 1000 

Location of coil connector (plug): Gantry 

Number of coil connectors (plugs): 2 

Coil tuning technique: Automatic
Parallel imaging 
Name: Speeder 

Technique: Image based 

Calibration Technique: Automatic

Maximum parallel acquisition acceleration factor, standard/optional: 4
Patient Table 
Detachable: Optional 

Elevating: Standard 

Minimum height: 42 cm 

Limited mobility load limit: 200 kg (440 lb) 

Fully mobile load limit: 200 kg (440 lb)
Excelart Vantage Coils 
Integrated body: Standard 

Diameter, cm: 7 

TMJ: Optional 

Mirrors for patient head: Yes 

Head : Standard 

Neck: Optional 

Type: Linear 

Coverage (head to foot): 50 cm 

Number of elements: 2 

Number of independent channels: Linear 

Parallel imaging compatible: Yes 

CTL spine: Optional 

Cardiac/abdomen: Optional 

Dimensions, L x W: 54 x 47 cm 

Flexible: Yes 

Number of elements: 2 

Breast: Optional 

Bilateral: Yes 

Biopsy access: Yes 

Number of elements: Linear 

Shoulder: Optional 

Dimensions, L x W, cm: 54 x 47 

Number of elements: 2 

Whole abdomen: Optional, torso Speeder 

Extremity: Optional 

Diameter, cm: 27 

Length, cm: 60 

Number of elements: Linear 

Peripheral vascular: Yes 

Diameter, cm: 27 

Length, cm: 38 

Dedicated parallel imaging: All Speeder coils 

Circular general-purpose: Optional 

Diameters available, cm: 7, 10, 15, 20 

Combined: Yes
Image processor 
Clock speed, GHz: 3.2 

Dedicated RAM: 3 GB
Reconstruction 
Maximum number of 256 x 256 slices per acquisition sequence: 256 (3-D), 128 (2-D) 

Number of slices per sec (256 matrix): 1300 

Maximum matrix: 1024 x 1024 

Minimum slice thickness 2-D/3-D, mm: 0.5/0.05 

Minimum FOV, cm: 0.5 

Maximum FOV, cm: 50
Quantitative image analysis tools 
Perfusion imaging: Optional 

fMRI: Optional 

Diffusion imaging: Standard with EPI package 

Body imaging: Standard MIP, MPR 

3-D image reconstruction: Standard
Excelart Vantage DICOM 
Modality worklist SCU: Standard 

MR Image Storage SCU: Standard 

Query/Retrieve SCU and SCP: Standard 

Storage commitment SCU: Standard 

Modality performed procedure step SCU: Optional

IHE profiles supported: SWF, PIR, GPG, PDI, CPI, and CHG
Other Excelart Vantage Specifications 
Other Attributes: Vantage systems are short (1.4 m), large clinical FOV (50 cm x 50 cm x 50 cm), possesses 

high homogeneity at
FDA CLEARANCE: Yes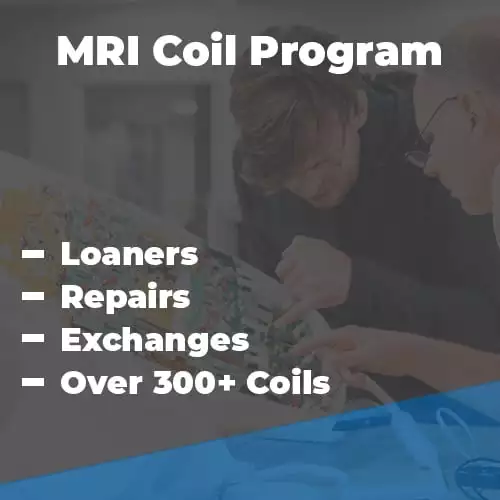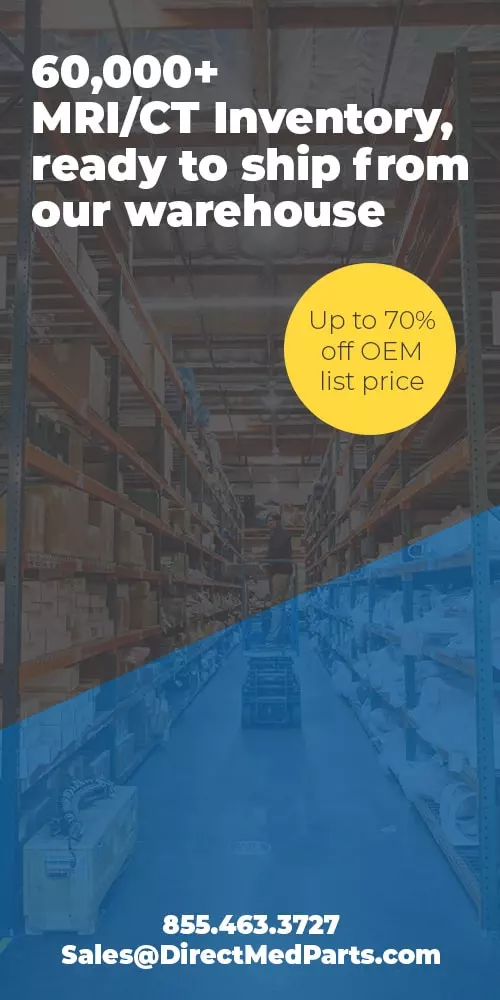 Stay up to date with our resources!
We are constantly publishing new content! Learn MRI & CT industry secrets along the way, become a more informed buyer, learn how to troubleshoot even the most complex problems, and ultimately save time and money!
"When it comes to coil repairs, DirectMed is always our first choice. Ever since we started using DirectMed, our coil spend has decreased dramatically, all while receiving top notch customer service from a knowledgeable team."
"DirectMed Parts provides great service support, we have been their customer for almost two years now and this is greatly visible in our budget. We have cut our costs in half with the help of DirectMed Parts. Besides excellent service and support they also provide great equipment at very reasonable prices."