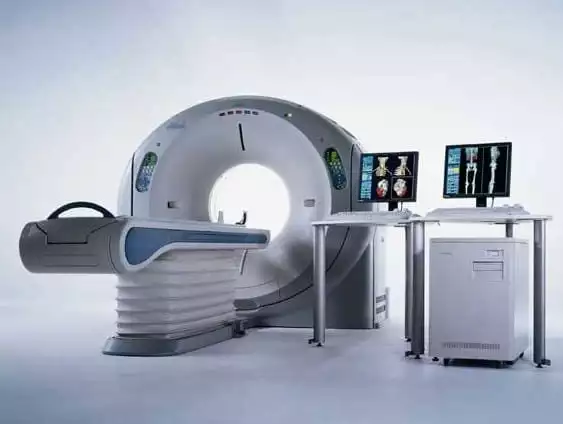 Everything You Need To Know About:
Toshiba CT
Aquilion 64
Parts, Repairs, Service
Brief Overview About The Toshiba CT Aquilion 64
The Toshiba Aquilion 64 CT machine is considered the only true volumetric 64-slice CT scanner with 64 detector channels, 3-D cone beam algorithms and volume reconstruction on the market. Automated features in the Toshiba Aquilion 64 CT scanner's SUREWorkflow software enable the operator to monitor a patient's heart rate prior to scanning.
Toshiba's 3-D Quantum denoising allows for reducing patient radiation exposure by up to 40% without loss of image quality. Each Toshiba Aquilion 64 CT scanner also features volume reconstruction, enabling you to scan a large volume in a minimum of time as Volume Viewing automatically reconstructs scanned data into the isotropic volume used for diagnosis.
Features
Access to a very comprehensive set of advanced clinical applications
X Ray Tube: CXD-750
Precise isotropic imaging of any clinical site of the body
Fast temporal resolution
64 simultaneous slices of 0.5mm with each 350ms revolution
256 slices in one rotation with .5mm slice thickness
13cm coverage in patient axis direction
Advanced SUREWorkflow software with PhaseXact
180cm long by 47cm wide patient couch
40% radiation dose reduction
70kW HF generator with 400 ms scan speed
Specifications
| | |
| --- | --- |
| Gantry (Max. Clearance) | 72 cm |
| Image Display | 18 in LCD color x 2 |
| Maximum Scan Range | 180 cm |
| Patient Weight Capacity | 450 lbs with option up to 660 lbs |
| Type (configuration) | Multislice |

Stay up to date with our resources!
We are constantly publishing new content! Learn MRI & CT industry secrets along the way, become a more informed buyer, learn how to troubleshoot even the most complex problems, and ultimately save time and money!
Did you know: We sell MRI & CT parts for GE, Siemens and Philips?
[carousel-horizontal-posts-content-slider-pro id='108993′]
"When it comes to coil repairs, DirectMed is always our first choice. Ever since we started using DirectMed, our coil spend has decreased dramatically, all while receiving top notch customer service from a knowledgeable team."
"DirectMed Parts provides great service support, we have been their customer for almost two years now and this is greatly visible in our budget. We have cut our costs in half with the help of DirectMed Parts. Besides excellent service and support they also provide great equipment at very reasonable prices."