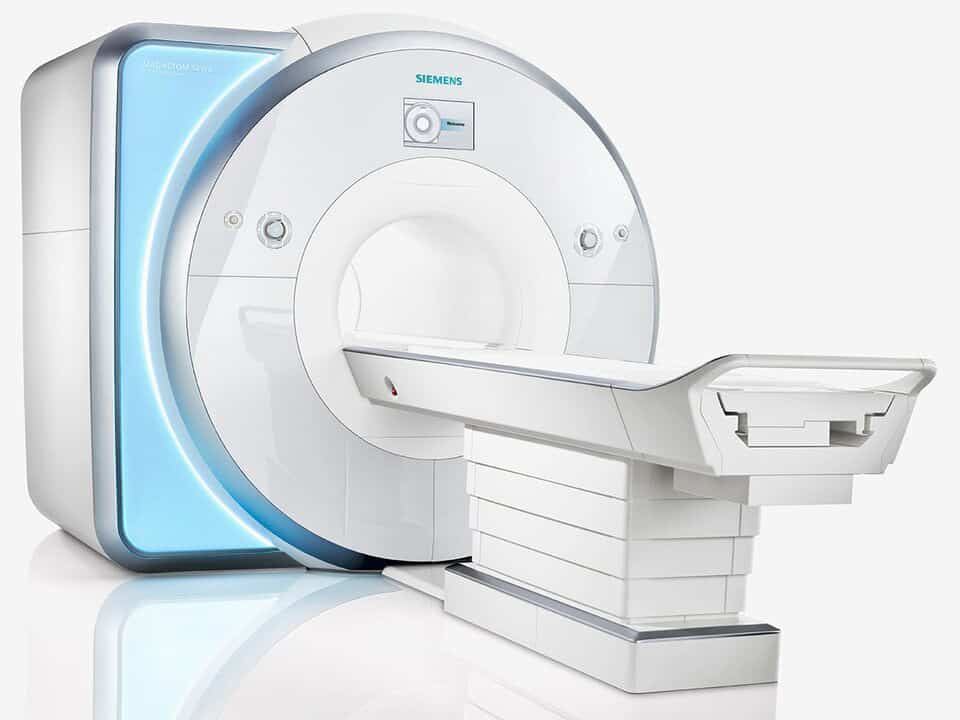 Everything You Need To Know About:
Siemens MRI
Skyra
Parts, Repairs, Service
Brief Overview About The Siemens MRI Skyra
The MAGNETOM Skyra 3T Scanner, couple with the the compan's Aera Scanner, are the first Tim 4G and Dot systems. Both have received 510(K)FDA clearance and are now commercially available in the U.S. MAGNETOM Aera and Skyra 70cm Open Bore systems were developed with efficiency in mind. Tim 4G, the fourth generation of Siemens RF technology, starts with 48 RF channels at both 1.5 and 3T – presently the highest standard RF Channel configuration ever offered at either field strength, according to the manufacturer.
Features
Greater patient access and comfort with 70 cm Open Bore design 
Ultra-light and short 3T system – easy to site and reduced cost of ownership 
DirectRF – for higher signal purity and improved stability
50 x 50 x 45 cm FOV with TrueForm Design 
Tim Dockable Table option – Mobility done right 
Illumination MoodLight providing comfortable environment 
Magnet Technology
Ultra-short superconducting 3T magnet (173 cm cover to cover)
Ultra-light magnet easy to site (5768 kg)
Easy siting
Min. total space requirement: < 31 sqm (for magnet, electronics and console room) 
Fits in conventional 1.5T installations area 
Zero Helium boil-off 
Green cooling Package (optional) to decrease energy consumption by up to 50%. 
TimTX TrueForm Magnet and Gradient Design offers enhanded image quality
Dot (Day optimizing throughput) Engines
Dot, the imaging world's first MRI "throughput engine", offers patient personalization, user guidance, and exam automation to help optimize every part of our customers practice. Form reduction in exam times and improved clinical workflows to enhanced staff efficiencies.
Tim 4G – the fourth generation of Tim (Total Imaging Matrix) Technology
Tim (204 x 128) provides now up to 204 coil elements with up to 128 channels – 
100% higher density, from local to whole body. 
Advanced docking table with exclusive navigation wheel and integrated Tim coils
DirectConnect Coils
SlideConnect Coils
Gradient system
45 mT/m and 200 T/m/sec for each axis 
Actively shielded (AS) whole-body gradient coil system
Extremely low eddy currents
Water-cooled coil and amplifier for maximum performance 
All axes force compensated 
Optical links between magnet and equipment room to achieve highest RF stability
Transmit path is integrated in the magnet housing 
Receive path is integrated in the magnet housing 
Dual-Density Signal Transfer enables ultra-high density coil designs by integrating key RF components into the local coil. 
Receiver with high dynamic range without adjustments
Specifications
| | |
| --- | --- |
| Clinical Use | Whole Body |
| Gantry (Max. Clearance) | 70 cm |
| Magnet Type | Superconducting |
| Magnetic Field Strength | 3 T |
| Patient Weight Capacity | 550 lbs |
| Weight | 12716 lbs |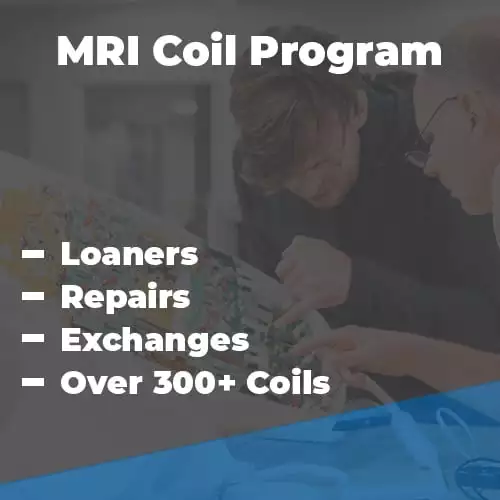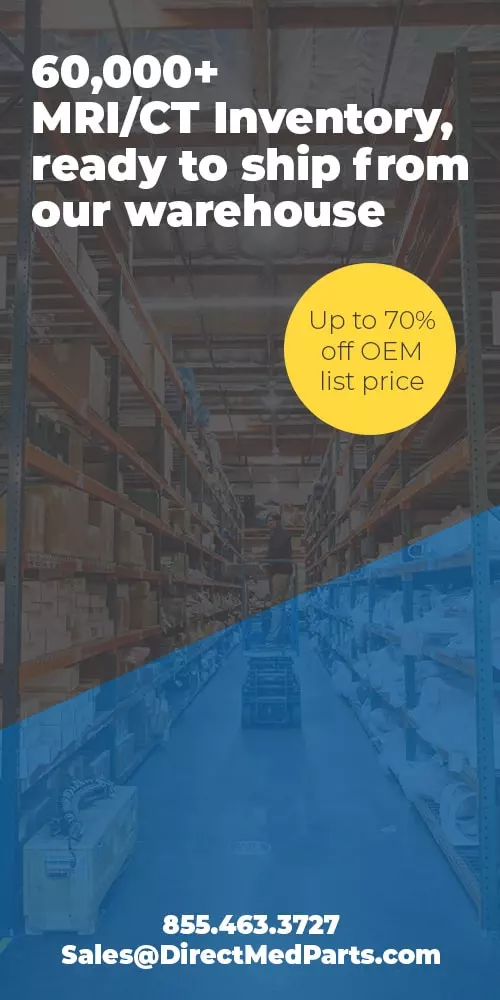 Stay up to date with our resources!
We are constantly publishing new content! Learn MRI & CT industry secrets along the way, become a more informed buyer, learn how to troubleshoot even the most complex problems, and ultimately save time and money!
Did you know: We sell MRI & CT parts for GE, Siemens and Philips?
[carousel-horizontal-posts-content-slider-pro id='108993′]
"When it comes to coil repairs, DirectMed is always our first choice. Ever since we started using DirectMed, our coil spend has decreased dramatically, all while receiving top notch customer service from a knowledgeable team."
"DirectMed Parts provides great service support, we have been their customer for almost two years now and this is greatly visible in our budget. We have cut our costs in half with the help of DirectMed Parts. Besides excellent service and support they also provide great equipment at very reasonable prices."