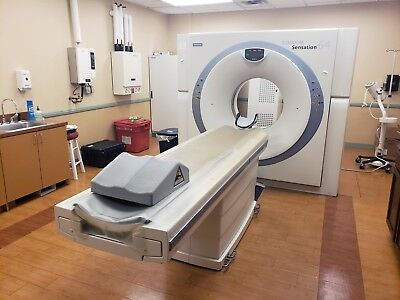 Everything You Need To Know About:
Siemens CT
Sensation 16
Parts, Repairs, Service
Brief Overview About The Siemens CT Sensation 16
Siemens Sensation 16 Features: 
Patient dose reduced by up to 30% 

Integrated Speed 4D 

420ms rotation time 

Virtually unlimited isotropic volume acquisition

16 simultaneously acquired ECG correlated acquisition 

Platform for cardiovascular imaging and non-invasive cardiac imaging with exceptional performance 

HeartView CI software – developed for making cardiac diagnosis 

syngo 3D VesselView 

syngo ARGUS 
Siemens Sensation 16 Tech Specs (Technical Specifications) 
General 
Configuration: Multislice helical 

# of slices: 16 

Power Needed: 380-480 VAC, 3-phase, 66-83 kVA 

Siting Requirements: 24 m2 (Floor Space Needed) 
X-Ray Tube 
X-Ray Tube Anode 

Tube Model: Akron/Dura 5.3 MHU or Straton 8.0 MHU
Water Cooled System

Heat storage: 5300000 hu 

Heat dissipation rate: 730000 hu/min 

Tube cooling: Chilled water 

Tube focal spot: 0.5 x 0.7, 0.8 x 1.2 mm 

Optional tubes: Yes 
Image storage 
Hd capacity: 376 Gigabytes 

No. online images: 260000 

Archive: CD-R, MOD 

Scoring of Coronary Artery Calcification: Yes 
Display 
Helical Scanning: Yes 

Max scan time: 100 seconds 

Max scan volume: 157 cm 

Spatial resolution: 30 lp/cm 

Pitch: 8-32 freely selectable 

Reconstruction time per image: 0.1 second 
Performance 
Minimum interscan time: 0.25 second 

High-contrast spatial resolution 0% mtf: 30 lp/cm 

50% mtf: 15 lp/cm 

Low-contrast resolution, mm at % at <=4 rads: 5 mm at 0.3% at 1.9 rads 

Sound, % at = 2.5 rads:0.29 
Generator 
Output: 60 kW 

Kvp range: 80,100,120, 140 

Ma range: 28 
Patient Table/ Range of movement 
Vertical: 48-102 cm 

Longitudinal: 200 cm 

Scanning range: 157 cm 

Max. patient weight: 200 kg (440 lbs) 
Image Processing 
CPU: Multiple Intel-based servers with Dual Pentium Xenon 

Scan fovs: Standard: 50 cm; Optional: 70 cm 

Image reconstruction matrixes: 512 x 512 

DICOM 3.0 Compatible: Yes (VAC ower Needed) 
Reconstruction time 
Per slice: 0.1 second 

For localization scan: Real time 
Display 
Monitor: 18 inch LCD 

Matrixes: 1024 x 1024 

Range of ct numbers: -1,024 to +3,071 

Image enlarging scale: Yes 

Max # slices displayed simultaneously: 64 
Gantry 
Geometry: Continuous rotate, low-voltage slip ring 

Detector (Scattered Light): UltraFast Ceramic with adaptive array detector 

Rows: 16 

Elements/row: 672 

Number of detection channels: 16 x 1,344 

Rotation times, sec 360: Standard: 0.42,0.5,0.75,1, 1.5; Optional: 0.37 

Partial: 0.28, 0.33; opt 0.25 1 

Slice thickness: 0.6,0.75,1,1.5,2,3,4,5,6,9, 10 mm 

X-ray fan beam angle: 54.4 degrees 

Gantry angle: ±30 degree 

Gantry size (height x width x depth): 199 x 89 x 222 cm 

Gantry weight: 2100 kg (4620 lbs) 

Gantry opening: 70 cm 

Scan localizer: Laser 
Software/ Technology 
SureView; CARE Dose 4-D; HeartView CT; syngo Perfusion; CARE Vision CT fluoroscopy; CARE Bolus; syngo 

Osteo; syngo Dental; syngo Pulmo; syngo Image fusion (CT/MRI/PET); syngo advanced LungCare; syngo 3-D VesselView; syngo Fly Through; syngo Argus; syngo I
Other • FDA Clearance: Yes 
• CE Mark (MDD): Yes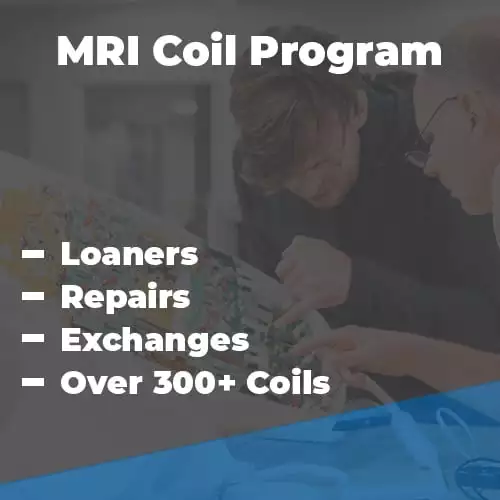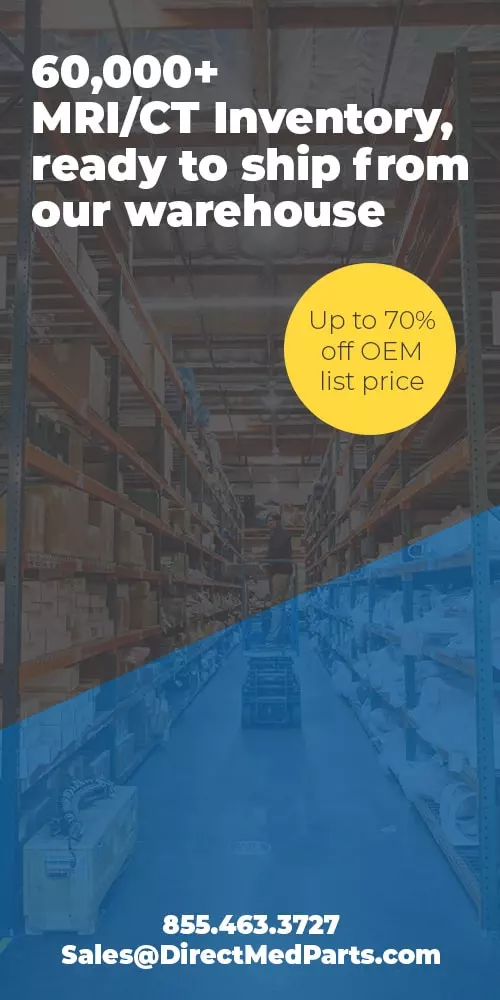 Stay up to date with our resources!
We are constantly publishing new content! Learn MRI & CT industry secrets along the way, become a more informed buyer, learn how to troubleshoot even the most complex problems, and ultimately save time and money!
Did you know: We sell MRI & CT parts for GE, Siemens and Philips?
[carousel-horizontal-posts-content-slider-pro id='108993′]
"When it comes to coil repairs, DirectMed is always our first choice. Ever since we started using DirectMed, our coil spend has decreased dramatically, all while receiving top notch customer service from a knowledgeable team."
"DirectMed Parts provides great service support, we have been their customer for almost two years now and this is greatly visible in our budget. We have cut our costs in half with the help of DirectMed Parts. Besides excellent service and support they also provide great equipment at very reasonable prices."