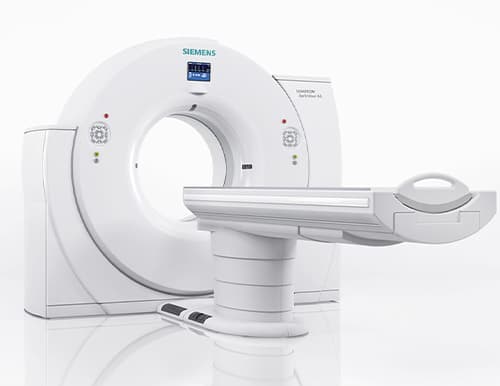 Everything You Need To Know About:
Siemens CT
Definition 128
Parts, Repairs, Service
Contents:
Brief Overview: Siemens CT Definition 128
The Siemens Definition DS 128 offers more definition of detail, resolution, and clinical information. Siemens z-Sharp tube technology uses a flying focal spot to create two x-ray beams simultaneously hitting a 32-row detector, effectively producing 64-slice scans. The Definition DS is one of the quickest 64-slice systems available along with temporal resolution of 83 msec per slice — and the use of multisector reconstruction algorithms can reduce that to 42 msec per slice. The scanner can conduct a cardiac acquisition in a breath-hold of five to six seconds, versus 10 seconds for a 64-slice system.
Somatom Definition isn't limited to cardiac scanning, of course. The technology behind the DS 128 offers added speed benefitting ER and acute care applications. The system can run at 160 kW with a 78-cm gantry diameter, and has a 200-cm scan range.
Functionality
The system has a wide range of features that make it stand out compared to other CT scanning systems. The features are listed and explained below.
The use of two X-ray energies used simultaneously – This was the most distinguishing feature because previous CT systems used one source of X-ray energy. With two sources of X-ray energies, the system enabled better differentiation, characterization and distinguishing of soft tissues, bones and fluids (Gupta, Chowdhury & Khandelwal, 2013). This is because more information is available for a single slide, two times what other CT systems could manage.
The system is characterized by 0.33 seconds per rotation, electrocardiogram-synchronized imaging that can be performed with 83-millisecond temporal resolution (Mid-Michigan, 2007). This feature enabled physicians to take images of all heart rates without the use of B-blockers, an aspect that other CT systems could not perform.

Functionality (Continued)
It had the longest bore opening (78-cm) and scan range (200-cm). (Mid-Michigan, 2007) It made it easy for the new system to image more of the patient's body in a shorter time and with more comfort unlike other CT systems that focused on a smaller body section.
Performing full cardiac imaging at half the dose: It was characterized by 50 percent dose lower at normal heart rates as opposed to other CT scanners (Gupta, Chowdhury & Khandelwal, 2013). This is because it could produce images of the heart twice the speed with higher resolution.
It was smaller in size, taking up to 18.5 m2 of the floor space (Health Imaging, 2005). This feature was contributed by its slim gantry as well as its sleek design making it easy and simple to install. The size was small for a system that can perform almost/ full body imaging.
Stay up to date with our resources!
We are constantly publishing new content! Learn MRI & CT industry secrets along the way, become a more informed buyer, learn how to troubleshoot even the most complex problems, and ultimately save time and money!
Did you know: We sell MRI & CT parts for GE, Siemens and Philips?
[carousel-horizontal-posts-content-slider-pro id='108993′]
"When it comes to coil repairs, DirectMed is always our first choice. Ever since we started using DirectMed, our coil spend has decreased dramatically, all while receiving top notch customer service from a knowledgeable team."
"DirectMed Parts provides great service support, we have been their customer for almost two years now and this is greatly visible in our budget. We have cut our costs in half with the help of DirectMed Parts. Besides excellent service and support they also provide great equipment at very reasonable prices."