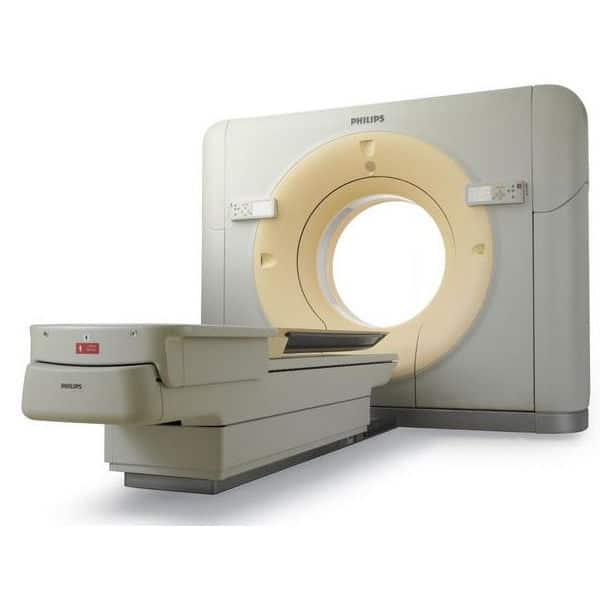 Everything You Need To Know About:
Philips CT
Brilliance 40
Parts, Repairs, Service
Brief Overview About The Philips CT Brilliance 40
The Brilliance CT 40-channel configuration gives you the speed and detail for the advanced multislice CT studies demanded by top institutions.
The breakthrough system opens a realm of possibilities in organ perfusion studies, coronary artery imaging, pulmonary imaging, and critical care. The strength of Brilliance CT is its ability to help you perform comprehensive organ assessment within seconds and with a high degree of fidelity.
The Brilliance CT 40-channel configuration features Philips-exclusive Back Illuminated Photo (BIP) technology, which solves the "wire mess" barrier that halted the development of scanners with more than 32 slices.
Features
Ultra-fast scan times of 0.4 second full gantry rotation in 40-slice mode operation
X Ray Tube Model: MRC 600 or MRC 800
Best-in-class coverage of 40 mm and up to 40 ips reconstruction speeds using full 3-D cone beam reconstruction
Additional detail to enhance diagnosis
Extended z-axis coverage capabilities that position CT as a modality of choice in stroke
evaluations
Philips DoseWise approach for optimal dose efficiency to help protect your patients without compromising image quality
Fast data acquisition to streamline departmental workflow
CT user environment developed especially for multislice CT
Comprehensive support for you in every season of system ownership
Specifications
| | |
| --- | --- |
| Gantry (Max. Clearance) | 70 cm |
| Image Display | 18 in flat LCD 2 |
| Maximum Scan Range | 162 cm |
| Patient Weight Capacity | 449 lbs |
| Type (configuration) | Multislice |

Stay up to date with our resources!
We are constantly publishing new content! Learn MRI & CT industry secrets along the way, become a more informed buyer, learn how to troubleshoot even the most complex problems, and ultimately save time and money!
Did you know: We sell MRI & CT parts for GE, Siemens and Philips?
[carousel-horizontal-posts-content-slider-pro id='108993′]
"When it comes to coil repairs, DirectMed is always our first choice. Ever since we started using DirectMed, our coil spend has decreased dramatically, all while receiving top notch customer service from a knowledgeable team."
"DirectMed Parts provides great service support, we have been their customer for almost two years now and this is greatly visible in our budget. We have cut our costs in half with the help of DirectMed Parts. Besides excellent service and support they also provide great equipment at very reasonable prices."