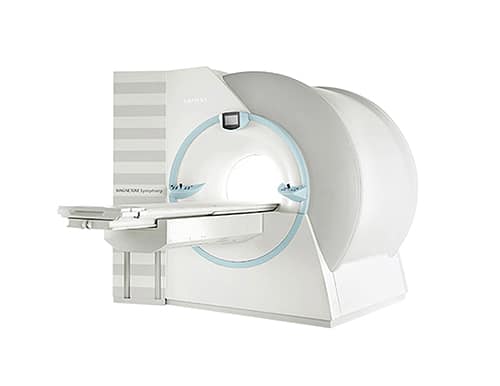 Everything You Need To Know About:
Siemens MRI
Brief Overview About The Siemens MRI Symphony
Users see a way to remotely access MRI scans with one mouse click without leaving the office. It's already one of the world's most in-demand 1.5T MRIs in its class. They have packed even more power into MAGNETOM SymphonyTM. Introducing Power-class. A potent array of cutting-edge applications that accelerate performance like never before. Now users will be able to see tiny details with incredible clarity. Breeze through exams with ease. And expand into profitable new areas. MAGNETOM Symphony with Power-class.
MAGNETOM Symphony 1.5T – Clinical Application Expect more patient throughput: New clinical applications to boost referrals. And revenue.
With a complete range of clinical applications not available anywhere else, MAGNETOM Symphony with Power-class gives users the ability to serve all kinds of patients, and fulfill any requirements from referring physicians.
The comfort of free-breathing
2D PACE MRCP without respiratory belt or cushion (GRAPPA 2, matrix 384, TA 3:32 min).
With Inline Technology even advanced applications like fMRI go easy and intuitively.
"MAGNETOM Symphony's complete range of applications allows us to serve all patients and fulfill all requirements of our referring physicians. We can now offer the best service for our customers: high comfort, fast scans and excellent image quality." Clinica Antofagasta, Antofagasta, Chile
Integrated Panoramic ArrayTM: The power of unmatched performance. 
Only Siemens offers Integrated Panoramic ArrayTM (IPA) for even faster and more comfortable MRI exams. IPA allows flexible combinations of up to four different coils, so users can expand the anatomic range of coverage without coil or patient repositioning. This can save up to five minutes per procedure or patient. In addition, MAGNETOM Symphony with Power-class comes with lightweight coils that are unmatched for patient comfort. Faster exams, faster throughput, greater patient comfort. Now that's powerful.
MAGNETOM Symphony 1.5T – Patient Benefits
More relaxing exams
Patients enjoy the open design and the comfort of light-weight coils. IPA coils can be flexibly combined to minimize patient repositioning. Additionally, ease and speed go together: MAGNETOM Symphony enables feet-first access for a large variety of exams. For tremendously increased patient comfort.
Short exam times
iPAT (integrated Parallel Acquisition Technique), with PAT factors up to 4, minimizes scan time up to 75% and permits short breathhold times. And even more 2D PACE, another Siemens´ exclusive technique for multi-breathhold or free-breathing exams, significantly contributes to patient relaxation. Using IPA, multiple exams can be performed in a single set-up: patients will value the shorter exam time.
Starting examinations pleasantly, the patient table lowers down to 45 cm. Convenient for all, but especially important for children, elderly and obese patients.
MAGNETOM Symphony 1.5T – Technical Specifications The following information will provide users with more technical details about MAGNETOM Symphony with Power-class. Compact Magnet Ultracompact 1.5T magnet (length: 160 cm / 5 ft. 3 in.) Wide, patient-friendly inner bore diameter (60 cm / 2 ft.) Magnet weight only 4,050 kg / 8,900 lbs Large DSV (diameter spherical volume) with excellent homogeneity over 50 cm / 20 in. Most Powerful Gradient System Gradient field strength up to 30 mT/m (52 mT/m effective) Slew rate up to 125 T/m/s (216 T/m/s effective) Large Field of View up to 50 cm / 20 in., optimized for whole body examinations Ultrafast, highly compact, water-cooled gradient amplifier in solid-state Technology for best min. TR 1.8 ms and min. TE 0.8 ms (matrix 256²) IPA, a Revolutionary Coil Concept Up to 16 CP coil elements from up to 4 different integrated Panoramic ArrayTM (IPA) coils can be used simultaneously Integrated Panoramic Positioning (IPP): Remote patient handling via remote coil selection and automatic table move. Up to 20%* more patients per day compared to non-IPA systems *Results may vary. Data on file. Powerful Computer Platform syngo, the highly intuitive Siemens crossmodality user interface, is the basis for all our applications. With syngo, they will be able to streamline workflow, speed patient throughput, and reduce training time. Which translates to better efficiency. And a better bottom line. Cost Effective Siting 30 sqm / 325 sq.ft. floor space only No computer room required for a total of just two electronic cabinets (water-cooled) that can be placed against the wall.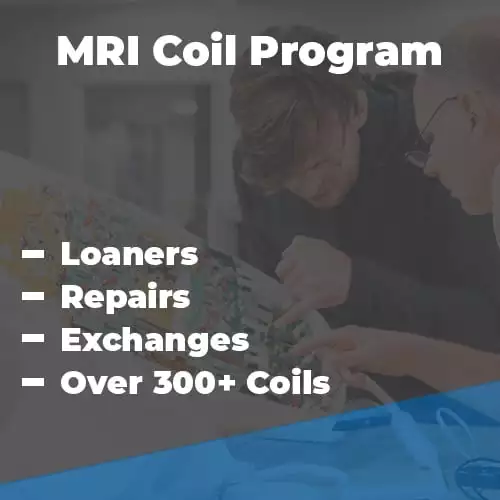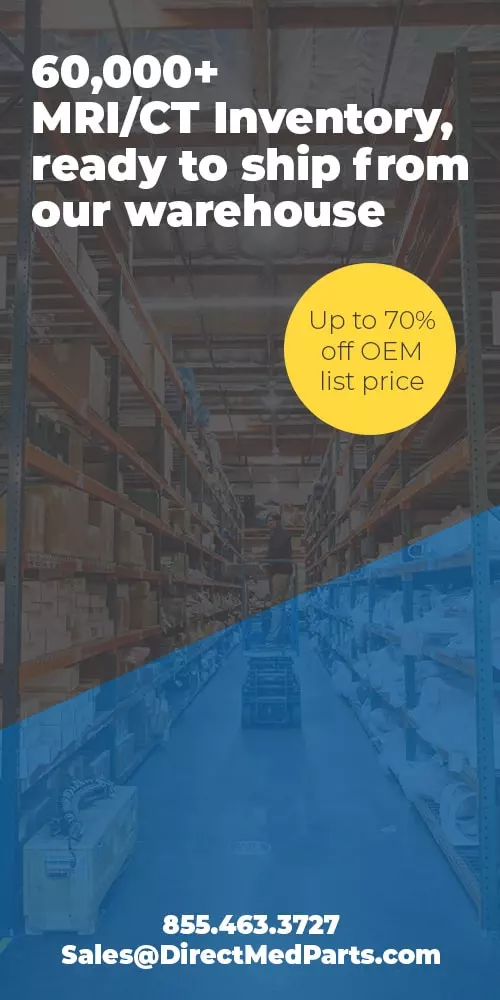 Stay up to date with our resources!
We are constantly publishing new content! Learn MRI & CT industry secrets along the way, become a more informed buyer, learn how to troubleshoot even the most complex problems, and ultimately save time and money!
"When it comes to coil repairs, DirectMed is always our first choice. Ever since we started using DirectMed, our coil spend has decreased dramatically, all while receiving top notch customer service from a knowledgeable team."
"DirectMed Parts provides great service support, we have been their customer for almost two years now and this is greatly visible in our budget. We have cut our costs in half with the help of DirectMed Parts. Besides excellent service and support they also provide great equipment at very reasonable prices."