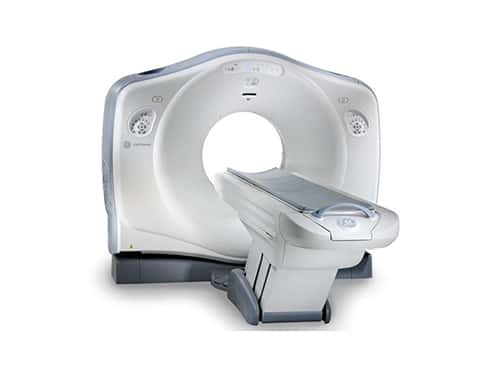 Everything You Need To Know About:
GE CT
Brief Overview: GE CT LightSpeed QX/i4
The GE Light Speed CT scanner is capable of scanning the whole body in 0.8 seconds, with full 360-degree rotation scans. The fast speed of image acquisition enables the conduction of many studies in the same amount of time it takes to hold a single breath.
The GE Light Speed allows you to reconstruct the thickness of multiple slice from a single acquisition of data. Routine use to think slices is enabled with this scanner without compromising throughput, coverage or IQ. The scanner has been designed for the production of images of excellent quality with display, networking, archiving, filming, image reconstruction and scan, simultaneously.
Functionality
The GE CT Light Speed scanner belong to the HiSpeed Advantage series and has a less modern box style. The scanner has a 6.3 MHU, MX200 x-ray tube, Smart Prep, Smart Speed, Connect Pro software. In addition, it comes with a Helical Tilt, VariViewer and Power 440. The Light Speed QX/ i4 has a 4-slice scanner, the scanner, just like all other GE CT scanners, is Air Cooled which means that there is no need for a chiller.
The x-ray tube utilized in the scanner has a 6.3 MHU heat capacity, 70 cm Bores and Solid-State Detectors. The model has an Octane and Xtream console, however the newer models have an Xtream console. If the models are refurbished after 2003, the console used in the model is Xtream console. However, at the end of the day, all clinical exams can be done on the Light Speed Scanner as on any other model of a scanner.

Rotation Speed
The Light Speed Scanner can complete one rotation in 0.7 seconds, one rotation is a 360 degree turn within the gantry in the x-ray tube.
Manufacturing Date
The original date of manufacture of the GE CT Light Speed Scanner QX/ i4 generally ranges between 1998 and 2003.
Market Value
Compared to the LS plus version of the scanner, the market value of the GE CT Light Speed Scanner decreases by 20 to 40 percent, on the basis of three factors, age, speed, rotation and appearance. To determine what CT scanner is best for you, it is recommended that you contact the manufacturing team for your questions and to discuss the upcoming imaging projects.
They will answer all your imaging equipment questions. Moreover, another special note for buyers is to make sure to check the NEMA standard XR-29 before purchasing any CT scanner. You need to make sure that the CT scanner you are purchasing meets the requirements.
Stay up to date with our resources!
We are constantly publishing new content! Learn MRI & CT industry secrets along the way, become a more informed buyer, learn how to troubleshoot even the most complex problems, and ultimately save time and money!
"When it comes to coil repairs, DirectMed is always our first choice. Ever since we started using DirectMed, our coil spend has decreased dramatically, all while receiving top notch customer service from a knowledgeable team."
"DirectMed Parts provides great service support, we have been their customer for almost two years now and this is greatly visible in our budget. We have cut our costs in half with the help of DirectMed Parts. Besides excellent service and support they also provide great equipment at very reasonable prices."