Sell Your Imaging System to DirectMed.
DirectMed Imaging System Buying Process: Streamlined Purchasing for Your Pre-owned Imaging Equipment
DirectMed streamlines the entire purchasing process, starting with a competitive quote and ending with de-installation and removal of your imaging system. So you can focus on what's important, THE PATIENTS
If you find yourself preparing to upgrade your MRI scanner to a more advanced platform, here are a few keys to selling your existing system that will help offset the cost and clear the way for your new equipment. 
As an MRI seller, we've always got our eyes peeled for scanners to buy, too. We're ready to provide a full turnkey proposal for purchase and professional removal. Here's how our process works. 
Call our Systems Sales Department! Our representatives walk you through the info collection process so you get the highest value possible for your used imaging equipment. You will be asked about the following information. 
System information
Software level and options
Accessories
Removal
System Information:
DirectMed needs to know what we are buying from the basics to the highest technology understanding. Photos of the factory tags showing date of manufacture, make, model, and system serial number are a must. For many systems, these can be found on the cabinets inside the electronics room, or on the operator's console. This will help us determine what we are working with and bring you a higher value. 
Software level and options: 
Getting a screenshot of the operator's console showing the system's current software level is a great way for us to understand what capabilities the scanner has. This is typically found as the workstation boots up. If your scanner has any non-standard software options/packages installed, such as neuro perfusion, cardiac, prostate, or breast imaging, be sure to let us know and we will also ask to include a screenshot of your enabled options. 
Accessories:
Make a complete list of all the coils you have for your system, noting the channels they are capable of scanning (i.e. 16-ch, neurovascular). Also injector and phantoms will need to be listed. 
Removal:
You will want to share the date your system will be available for removal. We will inspect the system first hand to confirm the information and see our path for removal. Next our expert team will come in to prepare for ramp down and deinstallation. 
About DirectMed:
MRI & CT Parts, Imaging Systems and MRI Coils. DirectMed is your fastest multi-modality vendor for medical imaging replacement parts, repairs, used systems and field service solutions. We have decades of team experience in servicing medical imaging equipment and helping extend the life of your MRI or CT machine.
65,000+ Used MRI & CT Parts in Stock. Another 4,500+ MRI Coils for sale are ready to ship today to get you online and scanning. ISO 13485:2016 Registered. Available 24hr 365 Days a Year.  Americas largest MRI Coil inventory. Engineering and technical support are California Based and highly experienced.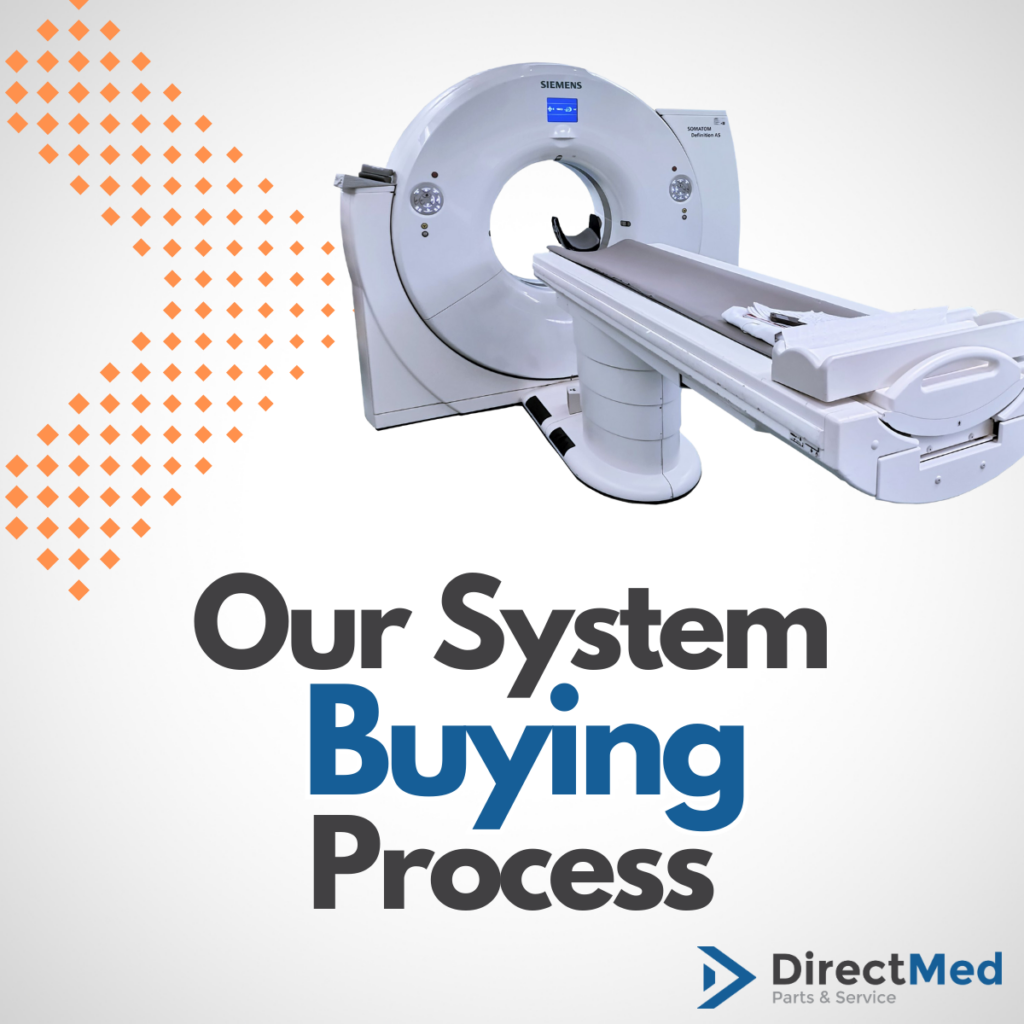 Get a Quote on your Used Imaging Equipment
See Live Inventory of Current Imaging Systems For Sale