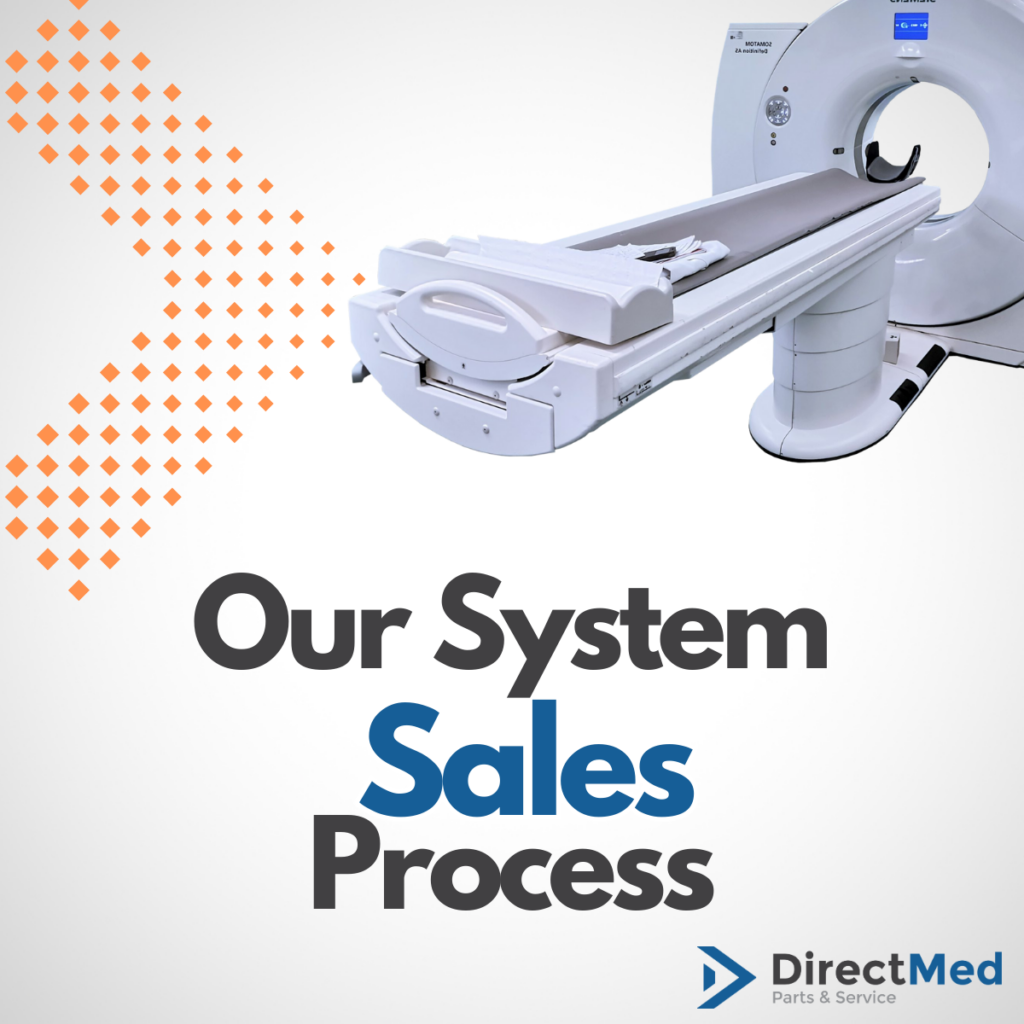 Buying Your Imaging System from DirectMed: A Streamlined Process for Acquiring Pre-owned Imaging Equipment
When it comes to upgrading your imaging system, DirectMed offers a smooth process that enables you to purchase advanced, pre-owned imaging equipment with ease. We aim to help you enhance patient care without the stress of navigating complex transactions or installations.
At DirectMed, we're always ready to assist you in purchasing a pre-owned MRI, CT, Mammo or other imaging system. We provide a comprehensive, turnkey solution for purchasing and professional installation.
Contact our Systems Sales Department for guided assistance.
Receive detailed information on available systems, including photos and model details.
Discuss software versions and specific options, including specialized imaging packages.
Review the list of available coils and other accessories for the system.
Benefit from professional de-install then installation of the chosen system at your convenience.
Here's how our buying process works:
Reach out to our Systems Sales Department: Our representatives will guide you through the process of gathering information to ensure that the system you purchase meets your specific needs and space requirements.
We'll discuss:
We'll provide you with detailed information on the systems we have in stock, including the manufacturing date, make, model, and system serial number. Our team can also provide photos and model details.
Software level and options:
We'll share screenshots of the system's current software level as displayed on the operator's console during boot-up. We'll also discuss any non-standard software options/packages installed on the system, such as neuro perfusion, cardiac, prostate, or breast imaging.
We'll provide a complete list of all the available coils for the system, noting the channels they are capable of scanning (i.e., 16-ch, neurovascular). We can also provide information about additional accessories, such as injectors and phantoms.
Once we've identified the perfect system for you, we'll arrange for the professional installation of your new imaging system at your convenience. Our expert team will come in to prepare for ramp-up and installation. Prior to install, we can also arrange the de-install to prepare the space for the incoming unit.
About DirectMed:
As a leading provider of MRI & CT Parts, Imaging Systems, and MRI Coils, DirectMed offers a speedy, multi-modality vendor experience. Our decades of team experience allow us to provide medical imaging replacement parts, repairs, used systems, and field service solutions.
With over 65,000 used MRI & CT Parts in stock and another 4,500+ MRI Coils ready to ship, we can get your new system up and running in no time. We are ISO 13485:2016 Registered and available 24/7, 365 days a year. As America's largest MRI Coil inventory, we have the resources to support your imaging needs. Our California-based engineering and technical support teams are ready to assist you with their extensive experience.
We look forward to helping you enhance patient care with an upgraded imaging system from DirectMed.